Important Pesticide Applicator Training Information
There are some important changes to the Pesticide Applicator Training (PAT) program for 2023. The first change is that the training manuals will NOT be sold out of the Extension Office as in previous years. Training manuals cost $40 and must be purchased online through the UW PAT store here: Pesticide Applicator Training (wisc.edu). We do have paper order forms in our office to order a manual via mail. The manuals will be shipped to you directly, usually the same day that they receive the order.
There will be in-person training sessions (via Zoom) and testing offered at these locations/dates (all will begin at 9am and are scheduled through 4pm):
January 13th in Darlington
February 3rd in Monroe
March 3rd in Lancaster
April 7th in Dodgeville
There will also be test-only sessions (without training) offered at these locations/dates:
January 25th in Darlington (12:30-3:30pm)
February 14th in Monroe (1:00-4:00pm)
March 15th in Lancaster (12:30-3:30pm)
March 20th in Dodgeville (1:00-4:00pm)
Registration for these in-person Zoom training/testing and test-only sessions can be made at this link: 2023 Private Pesticide Applicator Certification (google.com)
There will also be an in-person training and testing session hosted by personnel from the UW PAT office (live, not Zoom) on February 22nd in Dodgeville from 9:00am to 4:00PM. There will be a $10 fee for this training session, and you must register online here: Private Applicator Training Sessions – University of Wisconsin Pesticide Applicator Training Program
For a printable flyer with this information, click here.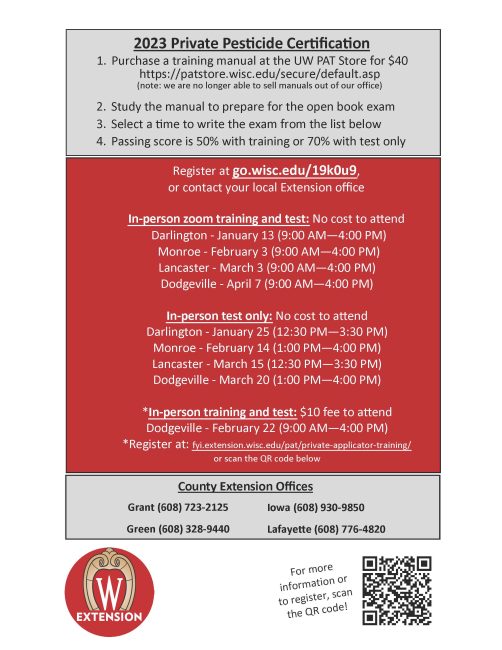 ---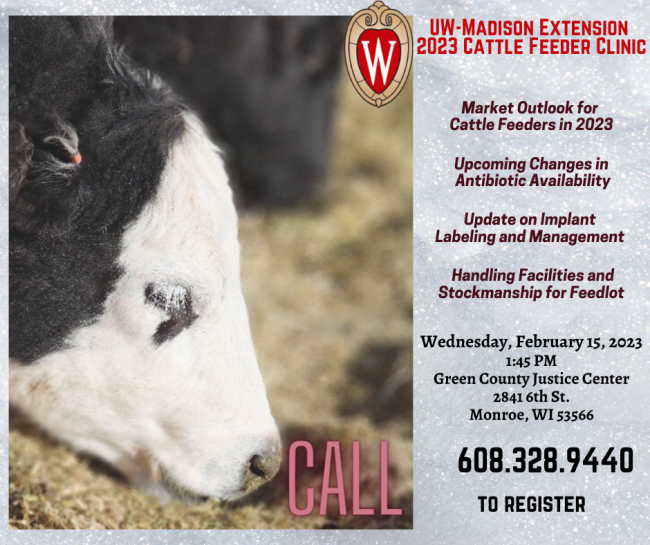 2023 Cattle Feeders Workshop
University of Wisconsin-Madison, Division of Extension will be hosting a Cattle Feeders Workshop Series slated for February 15th, 2023. The Annual UW Extension Cattle Feeders Workshop contains information for beef and dairy cattle feeders/finishers, and related allied industries. Attending the workshop will also earn people who are BQA certified one continuing education credit towards their next re-certification.
Changes to antibiotic use and availability, updates on implant use, market outlooks for the coming year and how stockmanship and handling facilities can impact animal performance will be presented to help cattle feeders be better prepared for the upcoming year.
Presenters and topics are as follows:
UW-Madison, Division of Extension Livestock Educators, Sandy Stuttgen, Amanda Cauffman, or Carolyn Ihde (depending on location) will present an overview of the coming rule changes for purchasing antibiotics and how a valid veterinary client patient relationship (VCPR) can reduce problems with those changes;
Dr. Dan Thomson, Iowa State University will present an update on implant labels and management, via a recorded presentation;
Dr. Brenda Boetal, UW-Madison Extension Livestock and Grain Market Specialist will provide a review of a 2023 market outlook for livestock and grains;
Bill Halfman, UW Madison Extension Beef Outreach Specialist, will present information on stockmanship and handling facilities considerations
Following are the dates, locations, and county extension offices for registering for each location. RSVP is required by February 6. We may cancel due to low enrollment, however, we will call those who have registered. Please contact the host county Extension Office for that specific location for more information.
February 15th, 2023 – Monroe
Monroe, 1:45 p.m. registration, program begins at 2:00 p.m. Green County Justice Center, 2841 6th St. Monroe.
RSVP by February 6 by calling Green County UW Extension, 608-328-9440. For more information view the 2023 Cattle Feeders Flyer, Monroe.
February 15th, 2023 – Lancaster
Lancaster, 6:00 p.m. registration, program begins at 6:30 p.m. Grant County Youth and Ag Center, 916 East Elm St. Lancaster. There will be a $10 registration fee collected at the door with a meal sponsored by the Grant County Cattleman's.
RSVP by February 6 by calling Grant County UW Extension, 608-723-2125. For more information, view the 2023 Cattle Feeders Flyer, Lancaster.
---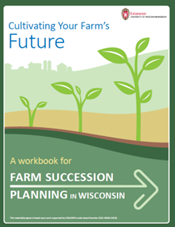 Cultivating Your Farm's Future
To help Wisconsin farm families start their succession planning process, Wisconsin Extension has developed an interactive program: Cultivating Your Farm's Future. This program will provide tools and resources for producers who want to begin the succession planning process. The program will explore the three-step process of planning your business succession:
Where are you now
Where do you want to be
How do you get there
You will be prepared to communicate, write, plan, vision and shape the legacy of the farm business as well as save time by having these crucial conversations before visiting with professionals. To learn more about this program please visit: https://go.wisc.edu/n6xhk8. For a printable flyer, click here.
Farms have the opportunity to choose the series that works best for them:
Series One
Tuesdays, January 24, 31 and February 7, 2023, noon – 1:30 pm; Registration deadline: January 10, 2023
Series Two
Thursdays, February 16, 23, and March 2, 2023, 6:00 – 7:30 pm; Registration deadline: February 1, 2023
If you feel you are ready to be a part of the workshop series please register online at https://uwmadison.eventsair.com/farmwkshp/reg
---

Wise Wisconsin Series Coming in February
UW-Madison Division of Extension's Life Span program presents Wise Wisconsin Winter Series. Extension Faculty, staff and partners from around the state will host sessions on topics that will help you increase joy and satisfaction in your life, provide you with new skills and resources, and help you connect with others during the cold, snowy winter months. Grab a hot beverage of your choice and join us on Wednesdays at 9am on Zoom starting February 1st through March 8th. Below is a list of sessions and a link to register for the sessions you would like to attend.
2/1/23 – Age related hearing loss: Strategies for adults with (or without!) hearing loss
2/10/23 – Do YOU know how Valuable you are? The power of connections!
2/15/23 – Be Scam Smart
2/22/23 – Bigger than a breadbox? the Biggest Breadbox Ever!
3/1/23 – Celebrate Nature
3/8/23 – Container Gardening
For a printable flyer, click here. For detailed session information and to register go to, https://aging.extension.wisc.edu/programs/wise-wisconsin-program/
---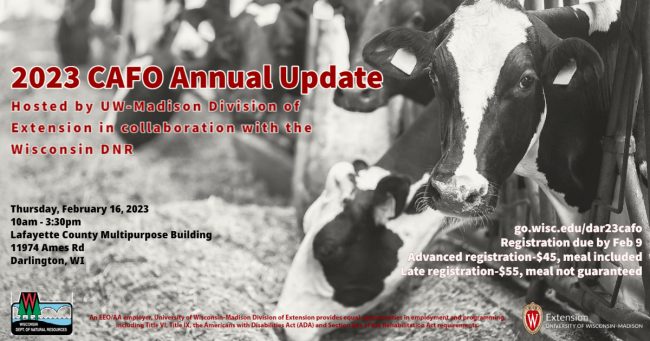 ---
Small Ruminant Webinar Series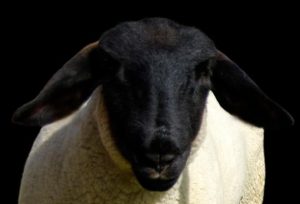 The Small Ruminant webinar series, hosted by the UW-Madison Division of Extension, provides a research-driven view of popular sheep production issues that connect sheep and goat producers around the state. This series also connects producers to useful tools, techniques, and tricks of the trade & tips from the field.
Join this monthly webinar via Zoom at 7:30 PM CST on the second Wednesday of January-April. Register now at: go.wisc.edu/FarmReadyResearch.
● January 11: Getting little ones off to the right start: Tackling pregnancy toxemia and
colostrum quality. Robert Van Saun DVM, MS, Ph.D. PennState Extension Veterinarian
● February 8: Weather the ups and downs with the UW-Madison Extension Sheep Operation
Enterprise Budget. Carolyn Ihde and Bill Halfman, UW-Madison Division of Extension Outreach
Specialist
● March 8: Preparation for a successful breeding season. Dr. Justin Luther, Associate Professor, UW-River Falls
● April 12: Grilling and eating lamb. Cody Hiemke
Get the most up-to-date information on dairy and livestock production, forages, and farm management resources from Extension's Agriculture virtual education offerings. Your farm-ready research! There is no charge to participate in the sessions, but pre-registration is required to allow access. Register online at go.wisc.edu/FarmReadyResearch.
---
Badger Dairy Insight Webinar Series
Join the University of Wisconsin-Madison – Division of Extension's Dairy Program on Tuesdays from 1 to 2:30 pm CST for the Badger Dairy Insight webinar series. We are featuring your local Extension Dairy Program Educators and UW Specialists as they present on current dairy topics. Take the opportunity to learn from and discuss with experts on the dates below. To learn more about Badger Dairy Insight and the Extension Dairy program please visit https://dairy.extension.wisc.edu.

January 24th: Factors Impacting Fertility from Genomics to Aspirin – Lyssa Seefeldt, Dairy Educator, will talk how a successful transition period sets up a dairy cow for a stress-free lactation and better conception rates. She will highlight a few things producers can think about to create that successful transition. Francisco Peñagaricano, Assistant Professor-Quantitative Genomics, will focus on how the advent of genomics in the last 15 years has revolutionized dairy cattle breeding, enabling more rapid genetic progress. Genomics facilitates the selection of novel traits that are important, however too difficult or expensive, to measure on the entire population. This could allow the selection of new fertility traits that more closely describe cows' reproductive physiology and ultimately benefit the improvement of fertility in dairy cows. Rounding out the day, Heather Schlesser, Dairy Educator, will touch on aspirin after calving. Does aspirin, a nonsteroidal anti-inflammatory drug, benefit a cow when given during calving? Her presentation will seek to answer this question.

January 31st: Tools for Your Toolkit to Keep Animals Healthy – Neslihan Akdeniz Onuki, Assistant Professor and Extension Specialist, will focus on proper fan selection and maintenance to reduce ventilation costs and ventilation-related greenhouse gas emissions from dairy buildings. She will provide a few examples of supplemental cooling systems, which can save energy while maintaining healthy building conditions for cattle. Victor Cabrera, Dairy Systems Management Specialist, and Tadeu da Silva, Postdoctoral Researcher, will launch The EZ Dairy Enviro-Money. This is a highly user-friendly, whole farm, environmental and economic assessment tool for dairy farmers and other stakeholders. They will explain the tool, demonstrate its use, and show how to build scenarios to answer what-if questions.

February 7th: Milk Quality and Production: Opportunities and Threats – Laura Hernandez, Professor Lactation Physiology and Affiliate Professor Obstetrics & Gynecology, recently completed research aimed to determine if increased cisternal milk impacted milk yield given that in traditional milking systems, take-offs are set according to the fastest milking quarters. Are there possible negative effects on quarters that are not completely milked out? Don Sockett, Epidemiologist/Microbiologist at the Wisconsin Veterinary Diagnostic Laboratory, participates in research, consultation, and education to meet the needs of many. He will give an update on the work being done in the lab and challenges he sees emerging in the dairy industry. One of the topics he will present on is the emerging threat of Prototheca Bovis Mastitis.
Farm Ready Research
Learn the most up-to-date information on topics including dairy and livestock production, forages, and farm management resources from Extension's Agriculture virtual education offerings. Your farm-ready research! There is no charge to participate in the sessions, however pre-registration is required to allow access. Register online at go.wisc.edu/FarmReadyResearch.
For a printable information sheet regarding these webinars, click here.
---
Wisconsin Pork Industry Needs Assessment
The University of Wisconsin Madison Division of Extension invites you participate in a Needs Assessment Survey for the Pork Industry in Wisconsin. Results of the survey will help determine the educational needs of Wisconsin swine producers. The Swine extension team can then shape programs to deliver valuable information to pork producers. Ensuring swine producers can be successful addressing the most critical challenges. All swine farmers are encouraged to participate in the survey regardless of size or type of farm. The survey can be accessed by going to the livestock.extension.wisc.edu website, going to the following link, or scanning the QR Code.
Survey link: https://uwmadison.co1.qualtrics.com/jfe/form/SV_aaAQ4FHaZBYsMke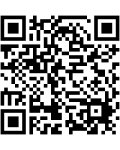 ---

Extension Horticulture & Gardening Resources for You
Do you have a question relating to horticulture or gardening? Iowa County does not have a dedicated Horticulture Educator, but the UW-Madison Division of Extension does have an online form that you can fill out. Simply provide basic contact information and ask your question, and your inquiry will be responded to by an Extension staff member or a Master Gardener Volunteer in your area. You can even upload up to three photos to submit with your question!
A link to the online submission page is located to the right (scroll down to where it says "Ask a Gardening Question" and click on the "W" shield logo underneath it). Click here for an instruction sheet that details how to fill out and submit the online form.
---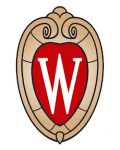 Regional Agricultural Educators Staffing Model In Effect
The University of Wisconsin – Division of Extension has moved to a Regional Agricultural Educators staffing model across the state. These positions provide research-based education to dairy, livestock, and crop producers by assessing the needs of farmers in their region and design and deliver educational programming and services to meet those needs.
Dairy, Livestock, and Crop production are the largest agricultural industries in the Southwest area of Wisconsin. The Regional Agriculture Educators have specializations in these areas and are able to offer their expertise to serve those industries and producers. Regional Agriculture Educators:
Design and deliver educational meetings and field days in a four-county region that includes Grant, Green, Iowa, and Lafayette Counties
Provide consultation on production challenges to farmers and agricultural consultants
Contribute to outreach opportunities on agricultural topics through workshops, virtual trainings, symposiums, websites, social media, and publications
Collaborate with other educators and specialists across the state and region
Engage with Agriculture Extension Committees on progress and planning
Our region, which includes Grant, Green, Iowa, and Lafayette Counties, are served by: Dairy Educator – Jackie McCarville, Livestock Educator – Amanda Cauffman, and Crops and Soils Educator – Josh Kamps.
Dairy Educator Jackie McCarville joined Extension in 2017. Her dairy programming will focus on dairy production management including dairy calves and heifer management, animal husbandry and well-being, nutrition, and dairy x beef crosses to help dairy producers improve productivity, profitability, and efficiency while maintaining animal well-being. "I'm excited to bring my passion and expertise of the dairy industry to our local area."
Livestock Educator Amanda Cauffman joined Extension in 2018. Her educational programming will focus on Cow/Calf, Feeder Cattle, and Dairy x Beef cross production, Swine production, Small ruminants such as sheep and goats, as well as pasture management. "The regional staffing model allows for educators to specialize and develop areas of expertise and allows for more efficient sharing of unbiased, science based information."
Crops and Soils Educator Josh Kamps joined Extension in 2018. His educational programming focuses on field crop decision-making that promotes soil health and limits pest resistance. Specific areas of interest for demonstration and field research include cover cropping, forage crop rotation, manure processing technology, and weather resiliency practices. "For me the diversity within agriculture in Southwest WI is the most interesting part of Extension outreach service. I'm looking forward to the opportunity to work within my specialized area of Crops and Soils while serving a diverse four county agricultural region," says Josh.
To contact these Agricultural Educators please contact your local County Extension Office: Grant County (608) 723-2125, Green County (608) 328-9440, Iowa County (608) 930-9850 and Lafayette County (608) 776-4820.
For a printable copy of this press release, click here.
---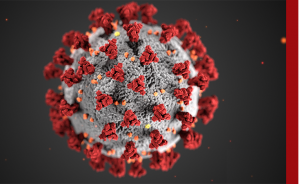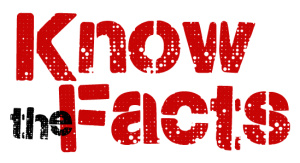 ---
Latest News from Extension Iowa County
Pesticide Applicator Training Information
There are some important changes to the Pesticide Applicator Training (PAT) program for 2023. The first change is that the training manuals will NOT be sold out of the Extension Office as in previous years. Training manuals cost $40 and must be purchased online through the UW PAT store here: Pesticide Applicator Training (wisc.edu). We […]