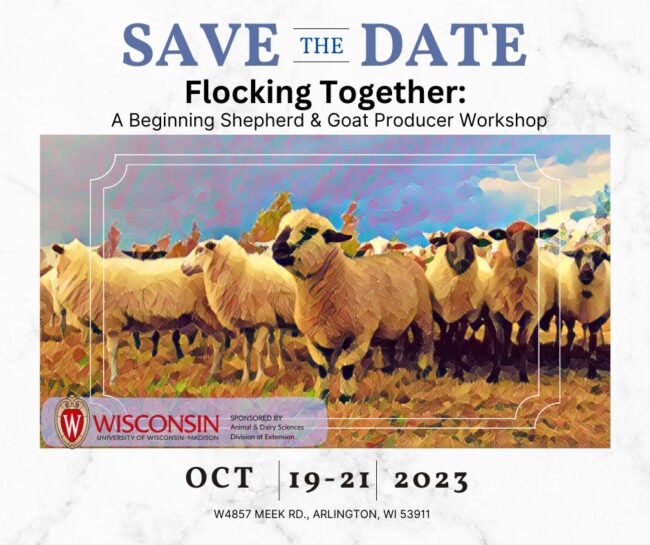 Immerse yourself in learning about the tasks that occur in the fall for a small ruminant enterprise: breeding, feeding, record keeping, lambing preparation, and more! Keep your eye out for when registration opens, or email us for more details at: carolyn.ihde@wisc.edu, lyssa.seefeldt@wisc.edu, or toddtaylor@wisc.edu.
---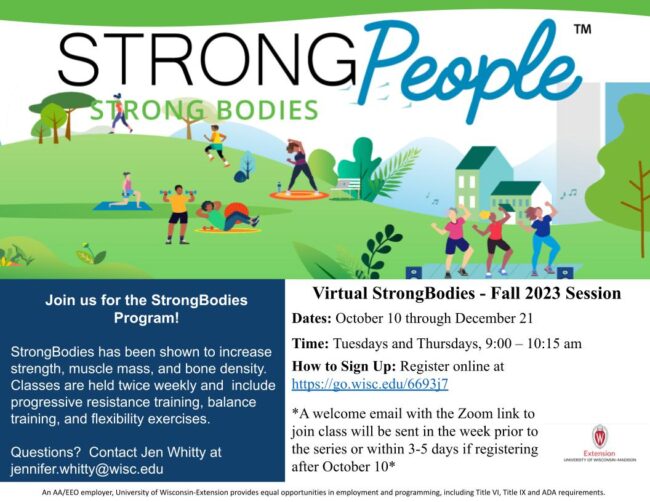 Virtual StrongBodies – Fall 2023 Session
Join us for the StrongBodies Program! StrongBodies has been shown to increase strength, muscle mass, and bone density. Classes are held twice weekly and include progressive resistance training, balance training, and flexibility exercises.
Dates: October 10 through December 21
Time: Tuesdays and Thursdays, 9:00 – 10:15 am
How to Sign Up: Register online at https://go.wisc.edu/6693j7
Questions? Contact Jen Whitty at jennifer.whitty@wisc.edu
---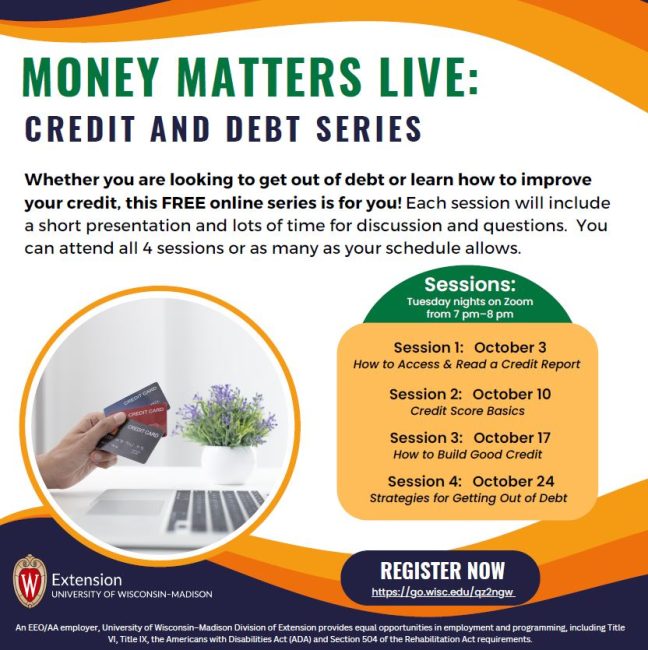 ---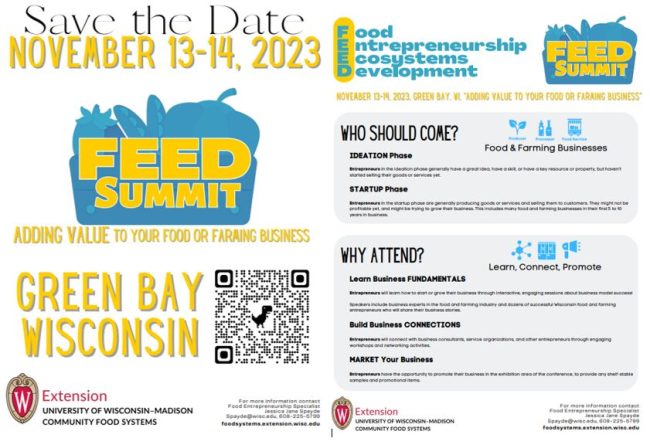 ---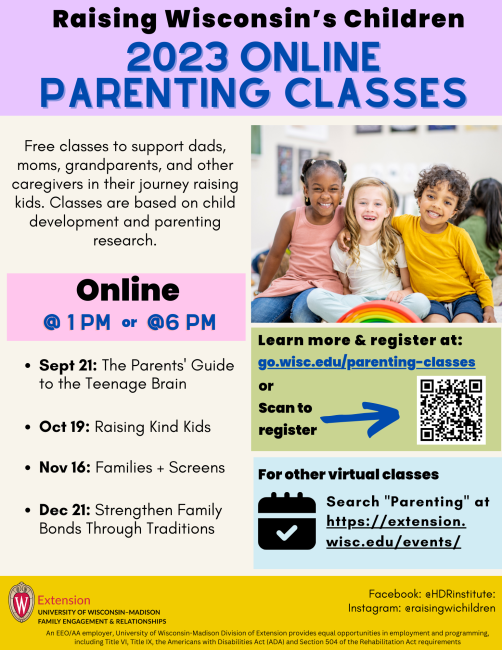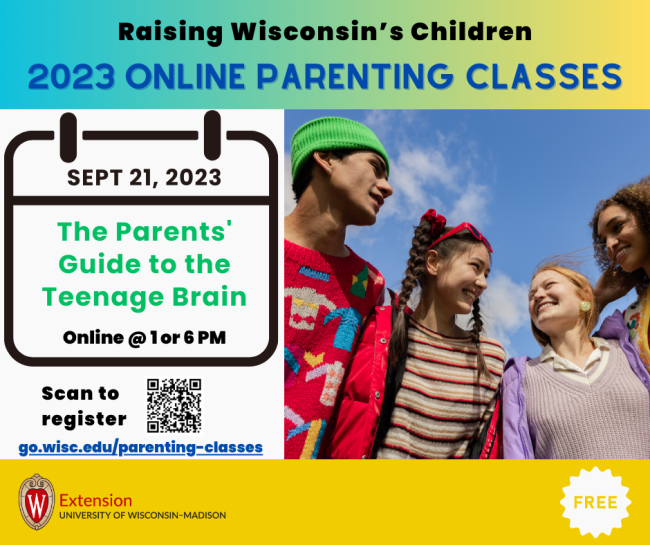 ---

Classes for Woodland Owners
Ross DeWitt, Iowa and Lafayette Counties Forester, is hosting a series of Learn About Your Land webinars. These classes cover many topics relevant to woodland owners.
All sessions will go from 6-7:30pm. Space is limited, so pre-registration is necessary. Registration fee is $15 per person, which includes all three webinars. Attendees must register by September 25, 2023 to attend the first week. Pre-register for these classes at Event Registrations – UW-Madison Extension Forestry (woodlandinfo.org). For a printable flyer with more information, click here.
Wednesday, September 27 – Invasive Plant Identification and Control
Wednesday, October 4 – Success with Tree Planting
Wednesday, October 11 – Assistance with Your Woodlands
---
Badger Dairy Insight Series
Join the University of Wisconsin-Madison – Division of Extension's Dairy Program on the third Tuesday of each month from 11am-12 pm CST for the Badger Dairy Insight webinar series. New this year, we are switching our webinars to a monthly platform. We are featuring your local Extension Dairy Program Educators and UW Specialists as they present on current dairy topics. Take the opportunity to learn from and discuss with experts on the dates below. To learn more about Badger Dairy Insight and the Extension Dairy program please visit https://dairy.extension.wisc.edu
October 17th: Manure Processing Systems
Rebecca Larson, Professor and Extension Specialist in the Nelson Institute for Environmental Studies at the University of Wisconsin-Madison will talk about manure processing systems. The information will cover a wide variety of research trials and extension information on the types of manure processing systems available including their benefits and limitations. She will cover composting, anaerobic digestion, solid liquid separation, sand separation, struvite recovery, pelleting/granulation, drying, pyrolysis (biochar), membrane treatment, and treatment to clean water. The presentation will include the basic system components, current status of the technology, future direction of the technology, products and nutrient values they each produce, and general limitations and operating requirements. A recently published manure processing series of fact sheets can also be found online at: https://learningstore.extension.wisc.edu/collections/animals (please scroll down to find the newest manure processing series). 
---

Planning AHEAD is a 7-session course (one hour each) that guides participants through the topics of handling financial changes, advance medical and legal directives, estate planning, choices in end-of-life care, final wishes, and understanding grief. This course features a free workbook to help people with the tasks and decisions associated with end-of-life planning.
This program is for people who:
Want to create end-of-life plans to make things easier for family members and to ensure their wishes are honored
Have lost a loved one
Are in the process of losing a loved one and are dealing with the transition
Classes will take place on Tuesdays, from September 19th – November 7th, 2023, virtually via Zoom from 11am to noon. September 19th is a required tech check.
Please register at: https://go.wisc.edu/i0h3f7 by Monday, September 11th. Connection information will be sent to registered participants. Space is limited. For more information, contact Life Span Program Manager, Sara Richie by email at sara.richie@wisc.edu. For a printable flyer, click here.
---
Safe Changes and Substitutions to Tested Canning Recipes
The safety of the food that you preserve for your
family and friends is important. You can make some changes and substitutions to research-tested recipes while still protecting your family by following a few simple rules.
Click here for an informational flyer with many tips, suggestions, and ideas!
---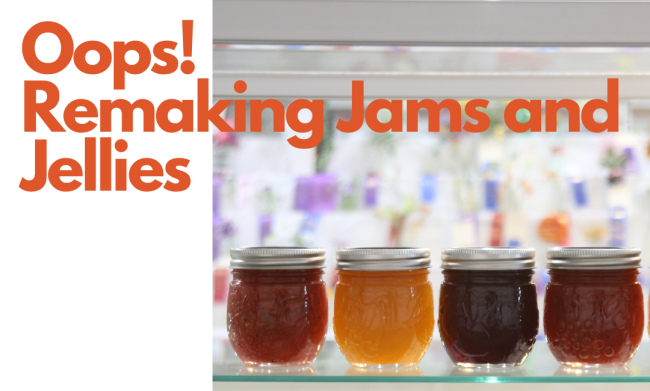 Fruit gels require the exact right amount of fruit, pectin, acid and sugar for a firm gel to form. Imprecise measuring, too-ripe fruit or failure to use the right type (or amount) of pectin can all contribute to too-soft or syrupy jam or jelly. Follow these steps to remake cooked jam or jelly for a firmer product.
---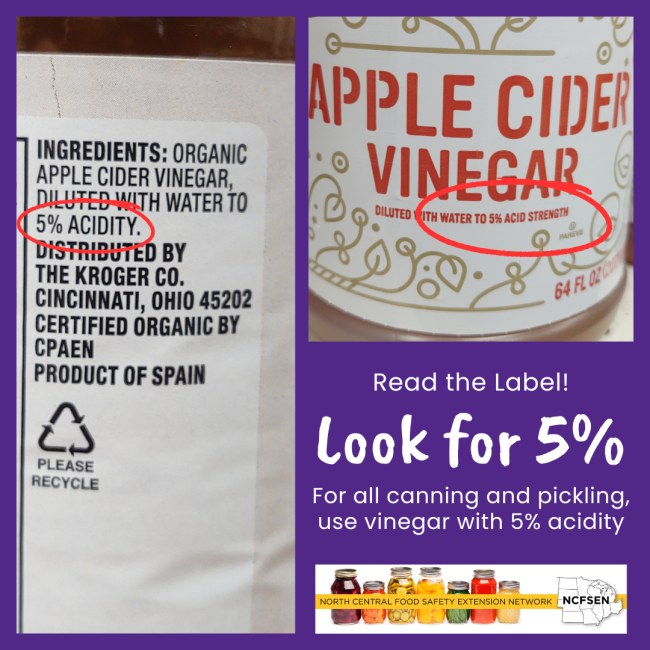 Vinegar with 5% Acidity: It Maters
Why is the acidity of vinegar important? White and cider vinegars acceptable for home preserving are standardized to 5% acidity. But, increasingly, store brands of vinegar are available with 4% acidity. Be sure to read the label! If you choose a vinegar with 4% or lower acidity, it may not be strong enough to safely preserve food.
For more information, click here.
---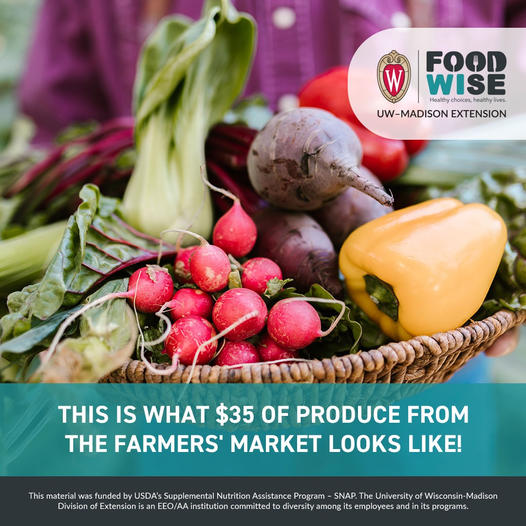 ---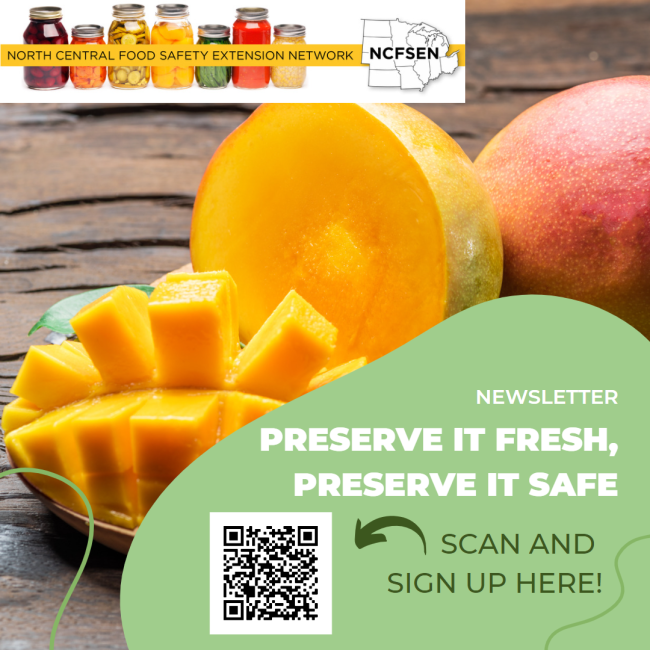 The North Central Food Safety Extension Network (NCFSEN) began with representatives from several states in the North Central Region in 2016 during a meeting convened by Extension program leaders held in Chicago, IL. Since that time, the network has grown to include representatives from all 12 states in the region.
Their website provides resource links to the affiliated states, an impact statement, a link to the regional food preservation e-newsletter subscription, outreach materials and journal articles published by the group. Click here to visit their website, or you can scan the QR code to sign up for their newsletter.
---
Important Pesticide Applicator Training Information
There are some important changes to the Pesticide Applicator Training (PAT) program for 2023. The first change is that the training manuals will NOT be sold out of the Extension Office as in previous years. Training manuals cost $40 and must be purchased online through the UW PAT store and paid for via credit card here: Pesticide Applicator Training (wisc.edu). There is a paper order form available that you can mail in with a check, which can be found here: https://go.wisc.edu/patbook. The manuals will be shipped to you directly, usually the same day that they receive the order.
You may choose a ZOOM training on the PAT Store website. If you do, you will receive a zoom link and password a few days before the class. The class will start at 9am and end at approximately 12:30pm, and you can do this from home as your own personal ZOOM session. After successful completion of the online training, you will receive a receipt that you must bring with you to the test site when you take the test. This is required for the option of scoring 50% on the test.
Online training – Available again this year! MUST STILL TAKE TEST IN PERSON!
To navigate the online options, visit the PAT Store at https://patstore.wisc.edu. Scroll down to "Private Applicator Training" and select General Farming 100/101. Then chose B. "Online Private Applicator Training." Online training can take the place of in-person training. From time of starting you will have 14 days to complete the training. Please keep the email with link to get back to the training if you leave it. Online training can be taken at any time. You will have access to training for 120 days of registration. The certification exam is given by the Extension office. Once you have completed the training, you will receive a Completion Receipt that you must show to the test proctor to be coded as attended a training.
Pre-registration and purchase of materials is required for all the sessions. To request special accommodations please do so at least one week in advance. The manual should be reviewed in advance of taking the class.
Bring these materials to the testing session:
Large manual – "Wisconsin Pesticide Applicator Training Manual-General Farming"
Number 2 pencil
Calculator (Optional, but must be something other than a Smart Phone as they are not allowed for use during the testing period.)
Know your social security number
---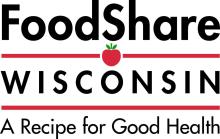 Maximize FoodShare Dollars
During the COVID-19 pandemic, a federal program gave FoodShare members extra benefits, plus the regular amount. Due to changes to federal law, those extra benefit amounts ended in February 2023. Qualifying families will continue to get their regular FoodShare amounts.
For news, updates, and resources, please click here for a printable information sheet.
---

Extension Horticulture & Gardening Resources for You
Do you have a question relating to horticulture or gardening? Iowa County does not have a dedicated Horticulture Educator, but the UW-Madison Division of Extension does have an online form that you can fill out. Simply provide basic contact information and ask your question, and your inquiry will be responded to by an Extension staff member or a Master Gardener Volunteer in your area. You can even upload up to three photos to submit with your question!
A link to the online submission page is located to the right (scroll down to where it says "Ask a Gardening Question" and click on the "W" shield logo underneath it). Click here for an instruction sheet that details how to fill out and submit the online form.
---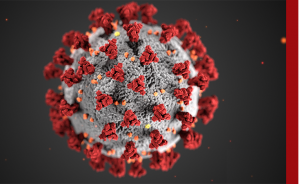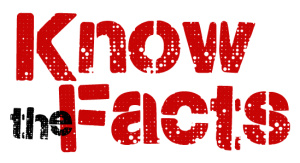 ---
Latest News from Extension Iowa County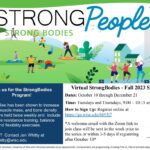 Virtual StrongBodies – Fall 2023 Session
Join us for the StrongBodies Program! StrongBodies has been shown to increase strength, muscle mass, and bone density. Classes are held twice weekly and include progressive resistance training, balance training, and flexibility exercises. Dates: October 10 through December 21 Time: Tuesdays and Thursdays, 9:00 – 10:15 am How to Sign Up: Register online at https://go.wisc.edu/6693j7 […]