Welcome to Iowa County 4-H!
4-H is the nation's largest youth development and empowerment organization. In Wisconsin, more than 69,000 youth are involved with 4-H and other UW-Madison Division of Extension youth programs. 4-H programming aims to engage youth in activities to increase their leadership, communication, and critical thinking skills. Our programs center on the 4 H's: head, heart, hands, and health. This is the foundation for everything we do.
Wisconsin 4-H has over 8,500 volunteers who serve as mentors for 4-H youth. They help provide a safe, engaging place for youth to take risks, practice their independence, and master new skills. Research shows there are many benefits to being involved in 4-H. 4-H youth are four times more likely to make contributions to their communities, two times more likely to be civically active, two times more likely to participate in out-of-school science programs, and two times more likely to make healthier choices.
4-H provides opportunities for youth to learn the life skills they need to be responsible adults, such as making good choices, leadership, public speaking, goal setting, planning and organizing, working as a team, written communication, and managing change. In 4-H, volunteers help youth plan and conduct meetings, projects, and activities and guide youth as they learn new skills.
Membership in 4-H is open to youth in kindergarten through age 19.
Iowa County 4-H News & Announcements:
Upcoming Events:
June
1
Horse ID's and Coggins Due
3
Iowa County June Dairy Breakfast, Arena Cheese
9
Area Animal Science Day, Wood County
11
YQCA Training, 3:00pm at HHS Building, Dodgeville
11
Horse Huntseat/Jumping Clinic, 9:00am at Iowa County Fairgrounds
16
Area Animal Science Day (Dairy Only), Mineral Point
19-22
Summer Academy at UW-Madison (7th-10th graders)
20-23
4-H Camp at Upham Woods (3rd-7th graders)
23-25
State 4-H Horse Hunt, Jump, and Dressage Show
26
Area Animal Science Day (Livestock Only), Crawford County
28
Area Animal Science Day, Barron County
 
 
July
 
7
Ambassador Applications Due
8-9
Farmers Appreciation Days, Dodgeville
17
Ambassador Banquest
20
Cloverbud Day Camp, Iowa County Fairgrounds
22
Summer Project Learning Day, Iowa County Fairgrounds
---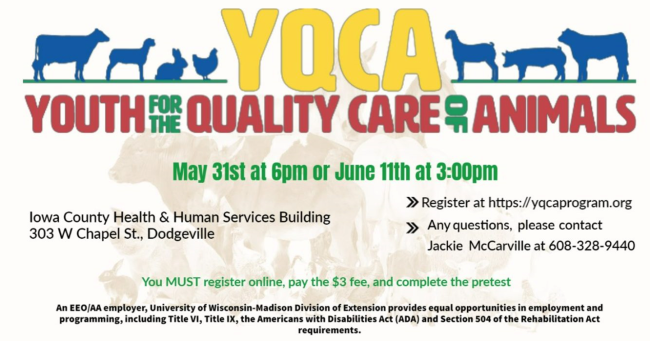 There will be YQCA training sessions on Wednesday, May 31st (6:00pm) and Sunday, June 11th (3:00pm). Both will take place at the Health and Human Services Building in Dodgeville (303 West Chapel Street). You can register for these training sessions at https://yqcaprogram.org. You MUST register online, pay the $3 fee online, and COMPLETE THE PRETEST before attending the training.
All youth who will be keeping animals overnight at the fair are required to participate in YQCA training to exhibit at the 2023 Iowa County Fair. Youth will need a current YQCA certification number to complete fair entries by the deadline of August 1st.
YQCA is not associated with Extension or 4-H, therefore you will need to contact the Help Desk at YQCA for assistance navigating the website. For a graphic showing how to access the pretest, click here. If you have any questions regarding these training sessions, please contact Jackie McCarville at 608-328-9440.
---
IOWA COUNTY 4-H AMBASSADOR APPLICATION
All youth who have completed 8th grade to 12th grade and who completed their 2022 4-H Record Book are eligible to apply for an official role as an Iowa County 4-H Ambassador. Ambassadors get a jump start on career development by interviewing, speaking in public, planning events, and promoting 4-H. The deadline to apply is July 7th.
Click here to download the application: PDF Version Word Version
Click here to download the Adult Recommendation Form: PDF Version Word Version
Contact the UW-Extension 4-H Office in Dodgeville for more information on the 4-H Ambassador Program (608) 930-9850.
---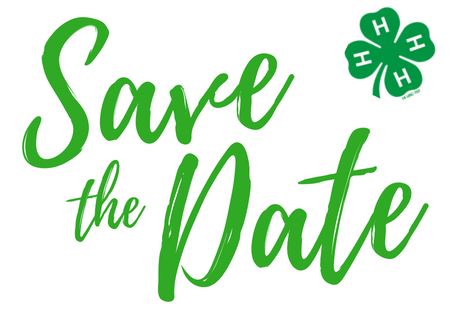 Thursday, July 20 – Cloverbud Day Camp
Saturday, July 22 – Project Learning Day
Thursday, August 3 – Foods Review
Thursday, August 10 – Clothing Preview
More information to come!
---
IOWA COUNTY FAIR GOAT & SHEEP PROJECT / ID INFORMATION
Attention all Iowa County Goat and Sheep Project members: please review this information provided by the Goat and Sheep Superintendents regarding ID for the Iowa County Fair. ID forms are due by June 1st. If you have questions, please contact the superintendents (contact information can be found in each ID Letter).
---
Recent Clover Connection Newsletters
If you have any questions regarding 4-H in Iowa County, please contact:
Dan Brandt
Iowa County 4-H Youth Educator
303 W Chapel Street, Ste 1200
Dodgeville, WI 53533
(608) 930-9850 – Phone