Welcome to Iowa County 4-H!
4-H is the nation's largest youth development and empowerment organization. In Wisconsin, more than 69,000 youth are involved with 4-H and other UW-Madison Division of Extension youth programs. 4-H programming aims to engage youth in activities to increase their leadership, communication, and critical thinking skills. Our programs center on the 4 H's: head, heart, hands, and health. This is the foundation for everything we do.
Wisconsin 4-H has over 8,500 volunteers who serve as mentors for 4-H youth. They help provide a safe, engaging place for youth to take risks, practice their independence, and master new skills. Research shows there are many benefits to being involved in 4-H. 4-H youth are four times more likely to make contributions to their communities, two times more likely to be civically active, two times more likely to participate in out-of-school science programs, and two times more likely to make healthier choices.
4-H provides opportunities for youth to learn the life skills they need to be responsible adults, such as making good choices, leadership, public speaking, goal setting, planning and organizing, working as a team, written communication, and managing change.  In 4-H, volunteers help youth plan and conduct meetings, projects, and activities and guide youth as they learn new skills.
Membership in 4-H is open to youth in kindergarten through age 19.
Iowa County 4-H News & Announcements
Congratulations to everyone who exhibited at the 2021 Iowa County Fair!  If you receive premium checks, please remember to cash them right away…they are only valid for 90 days!  Also, be sure to send thank-you notes to the livestock auction buyers, sponsors of special merit ribbons, and sponsors of trophies.
Graduating 4-H Member Scholarships
The Iowa County 4-H Leaders announce a scholarship opportunity for graduating 4-H members.  For this year only, scholarship applications will be accepted for members who graduated out of 4-H in this year (2021) or last year (2020).  You are eligible for 4-H membership one year after graduating from high school.  The application form, which is due back to the Extension Office by October 15th, can be found here.  Good luck!
Show Your 4-H Pride!
Show all of your friends your 4-H pride with this fantastic 4-H Facebook frame!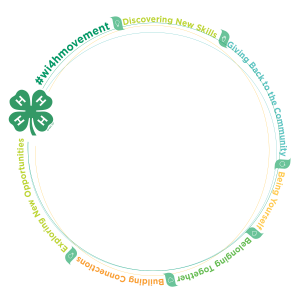 Recent Clover Connection Newsletters
If you have any questions regarding 4-H in Iowa County, please contact:
Sarah Weier
4-H Youth Development Advisor
303 W Chapel Street, Ste 1200
Dodgeville, WI  53533
(608) 930-9850 – Phone
(608) 935-0328 – Fax