Welcome to Iowa County 4-H!
4-H is the nation's largest youth development and empowerment organization. In Wisconsin, more than 69,000 youth are involved with 4-H and other UW-Madison Division of Extension youth programs. 4-H programming aims to engage youth in activities to increase their leadership, communication, and critical thinking skills. Our programs center on the 4 H's: head, heart, hands, and health. This is the foundation for everything we do.
Wisconsin 4-H has over 8,500 volunteers who serve as mentors for 4-H youth. They help provide a safe, engaging place for youth to take risks, practice their independence, and master new skills. Research shows there are many benefits to being involved in 4-H. 4-H youth are four times more likely to make contributions to their communities, two times more likely to be civically active, two times more likely to participate in out-of-school science programs, and two times more likely to make healthier choices.
4-H provides opportunities for youth to learn the life skills they need to be responsible adults, such as making good choices, leadership, public speaking, goal setting, planning and organizing, working as a team, written communication, and managing change. In 4-H, volunteers help youth plan and conduct meetings, projects, and activities and guide youth as they learn new skills.
Membership in 4-H is open to youth in kindergarten through age 19.
Iowa County 4-H News & Announcements:
Upcoming Events:
November
1
Annual Club Charter Renewals Due, Thrive Survey Sent via Email
4-5
State 4-H Fall Forum
6
Opportunity/Scholarship Applications Due
27
Leaders Association Meeting, 7:00pm at the Health & Human Service Building, Dodgeville
 
 
December
1
4-H Re-enrollments Due Online, Record Books Due to Club Leaders
8
Selected Record Books Due to Extension Office
 
 
 
 
---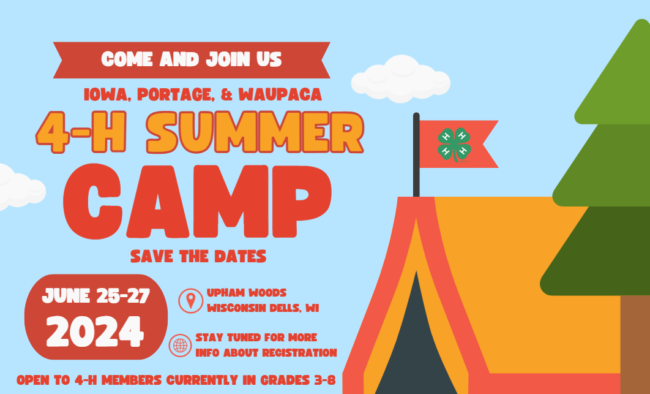 2024 4-H Camp
4-H Camp will be held June 25-27, 2024 at Upham Woods in Wisconsin Dells. This year, Iowa County will be joining Portage and Waupaca Counties for an exciting, fun-filled camp experience! Stay tuned for more information…
Click HERE for the 2024 4-H Camp Counselor Application. Applicants must be enrolled in grades 9-13 at the time of application. The deadline to apply to be a Camp Counselor is Friday, January 26, 2024.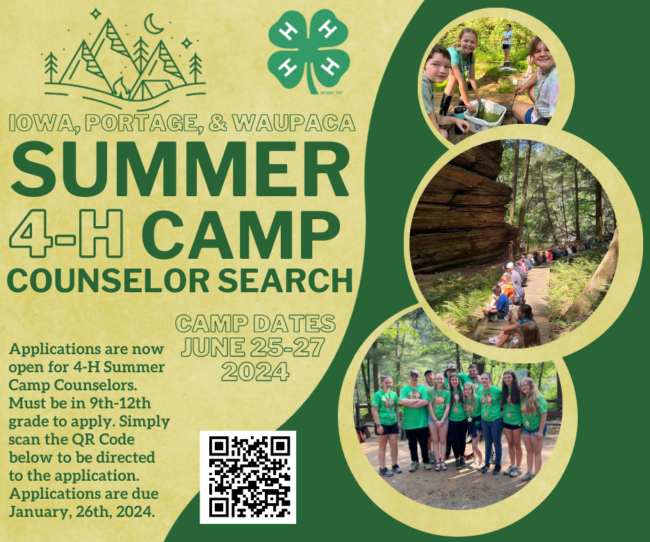 ---
Recent Clover Connection Newsletters
If you have any questions regarding 4-H in Iowa County, please contact:
Dan Brandt
Iowa County 4-H Youth Educator
303 W Chapel Street, Ste 1200
Dodgeville, WI 53533
(608) 930-9850 – Phone