Area Extension Livestock Educator
Meet Amanda Cauffman, Extension Livestock Educator for Grant, Green, Iowa, & Lafayette Counties.  Amanda joined Extension in 2018. Her educational programming will focus on cow/calf, feeder cattle, and dairy x beef cross production, swine production, small ruminants such as sheep and goats, as well as pasture management. "The regional staffing model allows for educators to specialize and develop areas of expertise and allows for more efficient sharing of unbiased, science based information."
If you have any livestock-related questions, don't hesitate to contact Amanda at amanda.cauffman@wisc.edu or 608-723-2125.
---
On-Farm Cow-Calf Workshop – November 16th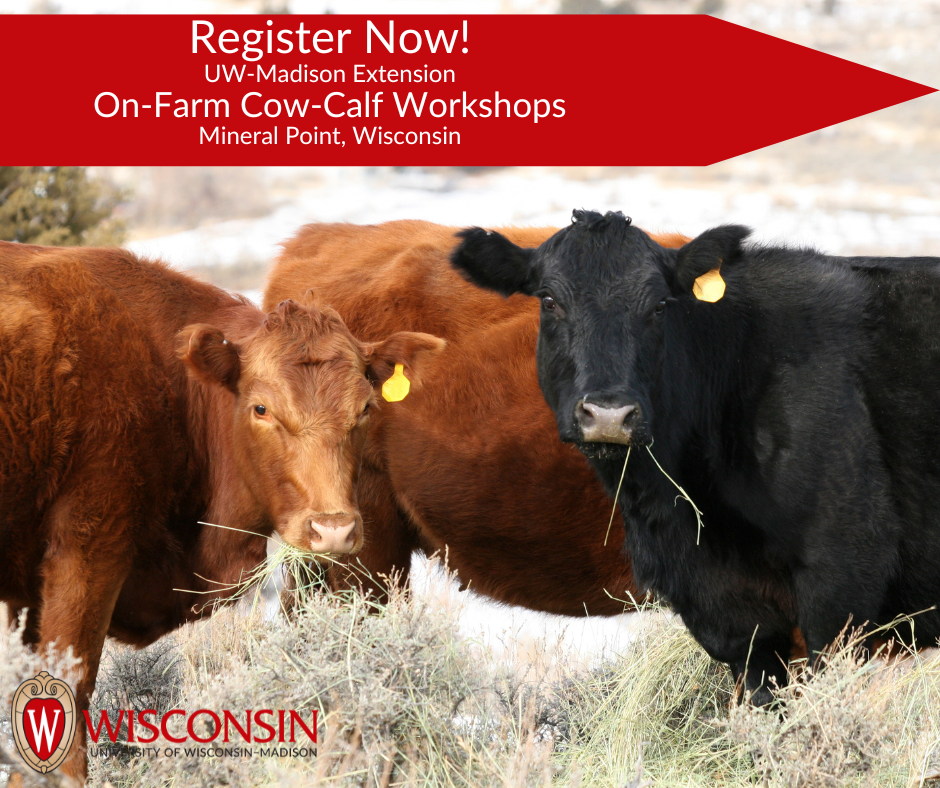 Cattle handling facilities and herd health topics will be the focus of upcoming regional UW-Madison Division of Extension On-Farm Cow-Calf Workshops. The on-farm workshops will include a tour and discussion of the host farm's cattle handling/ working facilities, discussions and presentations about herd health and preconditioning, and upcoming changes to purchasing antibiotics. The workshops should last approximately 2.5 hours, with registration beginning at 5:30 pm, and a tour, discussions, and presentations from 5:30 – 8 pm.
Mark Yager and Megan Yager of Yager Family Farms will host the Wednesday, November 16 event at 1592 County Rd W, Mineral Point, WI. There will be a $10/person registration fee collected at the door, with a meal provided by the Iowa County Farm Bureau. Contact the Grant County Extension Office at 608-723-2125 by November 10 to pre-register. When pre-registering for the On-Farm Cow-Calf Workshops, please leave your name, phone number, and the number of people attending. Extension reserves the right to cancel any workshop due to low pre-registration or other reasons and will contact those that have pre-registered in the event of cancellation.
Workshop presenters include UW Extension Agriculture Educators Sandy Stuttgen DVM, Carolyn Ihde, Amanda Cauffman, and Bill Halfman, UW Extension Beef Outreach Specialist, with host farms sharing their experiences with their facilities, including what they would like to change.  For more information about these or future workshops, contact Amanda Cauffman at amanda.cauffman@wisc.edu.
For a printable flyer, click here.
---
Scrapie Program Information for Sheep & Goat Producers
All sheep and goat operations, including small hobby flocks/herds and 4-H members with just one or a few animals, are required to have their flocks/herds registered with USDA. Most sheep and goats leaving a farm must carry an official scrapie ear tag. There are some classes of sheep and goats that do not need to be tagged according to the USDA regulations (e.g. young castrated males moving directly to slaughter). However, many marketing organizations require all animals to carry the official USDA scrapie tag regardless of age or sex, so the best advice is to have an official USDA scrapie ear tag in every sheep and goat that leaves the farm; including lambs, kids, sheep, and goats going to shows.
The ear tags and applicator are free. Sheep and goat operations can be registered and ear tags ordered through the USDA/APHIS office in Madison by calling their toll-free number at 1-866-873-2824.
Scrapie Eradication Program Factsheet
RESOURCES: