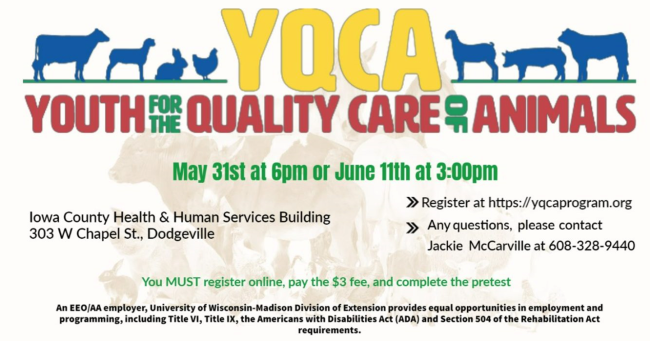 There are no more in-person YQCA trainings scheduled prior to the Iowa County Fair; however, you may register for online training/certification here: YQCA – Youth for the Quality Care of Animals (yqcaprogram.org)
All youth who will be keeping animals overnight at the fair are required to participate in YQCA training to exhibit at the 2023 Iowa County Fair. Youth will need a current YQCA certification number to complete fair entries by the deadline of August 1st.
YQCA is not associated with Extension or 4-H, therefore you will need to contact the Help Desk at YQCA for assistance navigating the website. For a graphic showing how to access the pretest, click here. If you have any questions regarding these training sessions, please contact Jackie McCarville at 608-328-9440.