A Helping Hand with COVID-19
Two of the most reliable sources for factual information regarding the Coronavirus (COVID-19) is the Centers for Disease Control and Prevention (CDC), and the World Health Organization (WHO). There is a lot of information available on the internet and in social media right now. We are not here to tell you what you should or shouldn't believe, but rather to recommend that you check verified sources of information whenever you are in doubt about something you read or hear.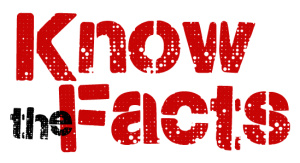 Centers for Disease Control and Prevention (CDC)
CDC is responding to a pandemic of respiratory disease spreading from person-to-person caused by a novel (new) coronavirus. The disease has been named "coronavirus disease 2019" (abbreviated "COVID-19"). This situation poses a serious public health risk. The federal government is working closely with state, local, tribal, and territorial partners, as well as public health partners, to respond to this situation. COVID-19 can cause mild to severe illness; most severe illness occurs in older adults.
World Health Organization (WHO)
WHO began when our Constitution came into force on 7 April 1948 – a date we now celebrate every year as World Health Day. We are now more than 7000 people working in 150 country offices, in six regional offices and at our headquarters in Geneva, Switzerland. Our primary role is to direct and coordinate international health within the United Nations system. Our main areas of work are health systems; health through the life-course; noncommunicable and communicable diseases; preparedness, surveillance and response; and corporate services. We support countries as they coordinate the efforts of governments and partners – including bi- and multilaterals, funds and foundations, civil society organizations and the private sector. Working together, we attain health objectives by supporting national health policies and strategies.
Some additional resources include:
The Department of Health Services (DHS) – Wisconsin
Another great resource for is The Department of Health Services (DHS) is one of the largest and most diverse state agencies in Wisconsin. DHS is committed to protecting and promoting the health and safety of the people of Wisconsin, making sure everyone can live their best life. DHS works with local counties, health care providers, community partners, and others to provide alcohol and other drug abuse prevention, mental health, public health, implementation of long-term care, disability determination, regulation of state nursing homes, and numerous other programs that aid and protect the citizens of our state. For information specific to Covid-19, go to https://www.dhs.wisconsin.gov/covid-19/index.htm
211.org
When you need help and don't know where to turn, 211 is your one-stop connection to the local services you need, like utility assistance, housing, food, elder care, crisis intervention, alcohol and other drug recovery and much more. For information specifically related to Covid-19, please go to https://211wisconsin.communityos.org/coronavirus
---
Overwhelmed with COVID-19 info?
Bottom line: when you come across new — sometimes alarming — information, stop. Talk to someone else. Focus on whether the facts back up the information you're hearing. Good, solid evidence will point you in the right direction. Then decide what you think and what you want to do with the message – pass it on, act on it, ignore it, or roll your eyes at it. And if you suspect a scam, tell the Federal Trade Commission so we can keep trying to shut the creeps down.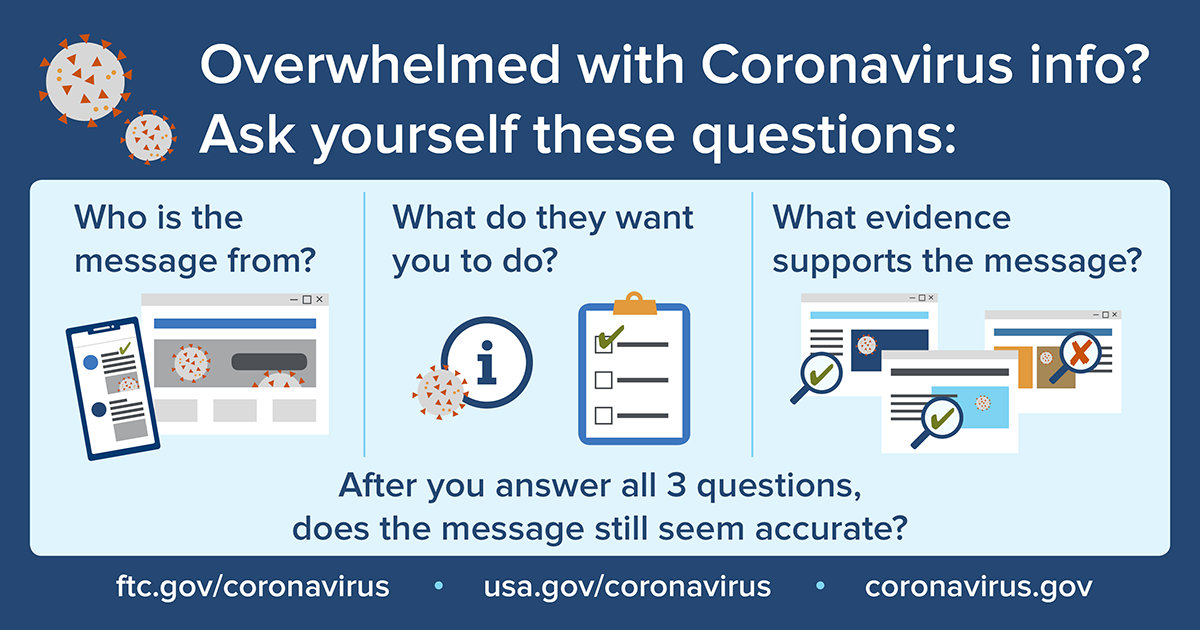 ---
Additional resources, questions, and answers