The Iowa County Youth Conservation Field Day is a one-day event held in September at the Iowa County Farm. The Field Day focuses on hands-on experiential learning about natural resources for 6th graders in Iowa County. This program was developed from the interest of local educators who had reached out to UW-Extension and expressed the desire for more outdoor, hands-on learning opportunities for youth in this area. However, school budgets have become tight over the years and field trips have been reduced or eliminated from the curriculum, largely due to the expense of transportation. This program was developed to fill that need, and we are proud to report that this year will be the 9th consecutive year of offering this program to 6th graders in Iowa County.

The goals of this programming are to:
Introduce students to the topics of groundwater, prairies, wildlife habitat, and other natural resource issues
Have youth increase their understanding and appreciation of local natural resources
Introduce the options of potential careers in the Natural Resource area
Have every Iowa County 6th grader in the public and catholic school systems attend
Provide the students with a positive experience in nature, which is important to children's learning, development, and mental and physical health (see: www.scholastic.com/parents/resources/article/parent-child/why-kids-need-nature)
Presentation Information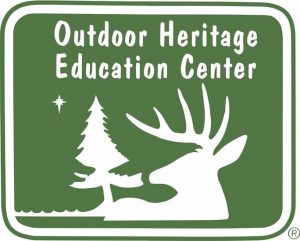 2019 Feature Presenter: Outdoor Heritage Education Center
We connect youth and adults to the outdoors and natural resources. We understand how this benefits people, families and society. Healthy, active outdoor lifestyles and a connection to nature is good for the individual and for the environment.
Click here for more information.
Each year we try to offer a variety of topics and presenters in our programming.  We expect the topics and presenters to be similar, but it will be determined by the number of schools that wish to participate. Below is a sample of the topics and presenters from our 2017 Iowa County Youth Conservation Field Day:
Gamefish of Wisconsin – Youth will learn about the many types of game fish found here in Wisconsin, their habitat requirements and where we might find these fish locally. (Bradd Sims, Wisconsin DNR)
Food Chain of the Prairie — Youth will learn about the predators and the food chain of the prairie. (Mike Engle, Fish and Wildlife Service)
The animals of the grassland – Learn about the birds and mammals of southwest Wisconsin grasslands, wildlife habitats of southwestern Wisconsin and techniques for restoring and maintaining wildlife habitat. (Meghan Ziegler, Wisconsin DNR)
Insects and social systems – Insects, flowers and food: Which pollinators live in our region and why are they important? Learn about the lives and habitats of pollinators. What can we do to protect them and even increase their populations? (Susan Carpenter, UW-Madison Arboretum)
Understanding Karst and Ground water — Groundwater is has a relationship to Geology. Usually groundwater moves slowly through the soil to remove impurities. In a Kast area groundwater can move over 100 feet a day. (Gene Schriefer UW-Extension)
Research of White Tailed Deer — Will be hosting a station to talk about the basics of Deer research and tracking. Students will hear a description of the project, learn about some of the trapping methods that researchers use. Practice setting up a clover trap and learn about GPS collaring. (Logan Hahn and Katie Luukkonen, WI DNR)
Introduction to the Tallgrass Prairie – Students will learn about the past, present and future of one of the rarest habitats in the Midwest: the Tallgrass Prairie. A Prairie Scavenger hunt will encourage students to use their observation skills and explore the prairie. (Sarah Pearce, Driftless Area Land Conservancy)
The Rainfall Simulator — We will be demonstrating a rainfall simulator and examining the effects of different ag practices on water movement across and through soil and how this impacts water infiltration. We'll measure compaction with a soil penetrometer and learn how compacted soil layers reduce ground water recharge. (Janet Vosberg and Dan Schlupp USDA, NRCS)
Partners and Supporting Organizations
Become a sponsor of this event
Our mission at UW-Extension is to teach, learn, lead and serve, connecting people with the University of Wisconsin, and engaging with them in transforming lives and communities. Our vision is to be a thriving, well-known, and sought-out education resource that reflects the rich diversity of the state and the communities that we serve.
As UW-Extension in Iowa County continues to provide this type of programming to our young people, we are continually faced with the rising costs associated with hosting an event such as this. While the costs are relatively low, as this event continues to grow, additional funding needs will always be needed.
If you would like to become a sponsor for this event, we would love to have you be a part of this special day. Please contact Barry Hottmann for more information on becoming a sponsor.
Registration
Please contact Barry Hottmann (see contact information below), to register for this year's event.
Want more information?
For more information about how to become a sponsor, or for questions on how to register your school for this year's event, please contact:
Barry Hottmann
Community Development Educator
Iowa County – UW Extension
303 W Chapel Street, Ste. 1200
Dodgeville, WI 53533
Phone: 608-930-9850
Fax: 608-935-0328
Email: barry.hottmann@wisc.edu